About Rehab Rebels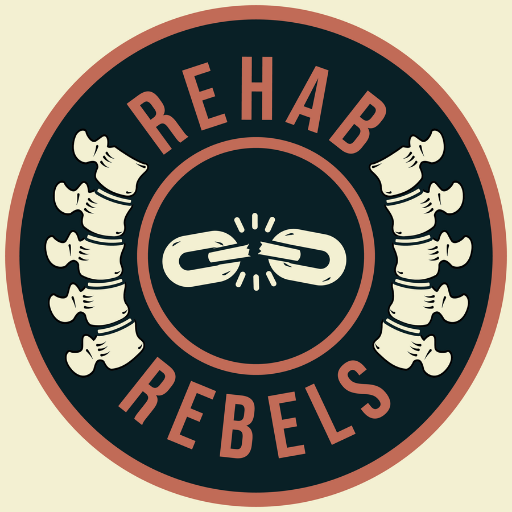 Rehab Rebels are therapists (OT, OTA, PT, PTA, and SLP) who are bridging the gap and transitioning to alternative careers. These alternative, or rebel, careers involve using the experience and skills you have now to make your career transition possible.
If you have asked yourself any of the questions below, you're in the right place.
"How do I decide which career direction to take?"
"What alternative careers are other therapists transitioning into?"
"How did other therapists change careers?"
"What are therapy business owners doing?"
"I feel trapped at my current job. How do I transition out?"
"How do I use my current experience and skills to bridge the gap to an alternative career without starting over?"
What to Expect
Rehab Rebels is run by Tanner who will show you how to transition to your next rebel career without starting over and this is how he is going to do it:
From interviewing rehab therapists (OT, OTA, PT, PTA, and SLP) who have used their skills and experience to deviate from traditional health careers so you can learn directly how to bridge your career gap to achieve a positive career change.
Revealing how Rehab Rebels have created their own lifestyle not settling for traditional 8-5 healthcare jobs.
Cultivating our Rehab Rebel community with others who are on the same journey as you. Where support and helpful information are provided.
Answering Rebels questions to help them have successful career transitions.
The Rehab Rebel Story
Who is Tanner and why should I listen to him?
I'm a Physical Therapist in my mid thirties who learned (and is continuously learning) about alternative careers and alternative income because I had to.
I have always been interested in different or alternative ways of doing things and have questioned the norm throughout life. But the main theme to answer why I created this website and podcast is freedom. More specifically a lifestyle of freedom to show others there are other options for you to make a living.
I have been pursing online entrepreneurship since March 2020 when I was working 5 days a week down to one day a week because of COVID.
I chose online entrepreneurship for location freedom and financial freedom due to:
The distance of close loved ones in my life, I will not be able to build a caring loving relationship with them working a traditional job that offers only 2-4 weeks of vacation a year.
Work place stress, pressure for profit over patients best interest, and no room for advancement.
The increasing exchange of personal time for piling work duties without any appreciation or acknowledgement for sacrificing my time for additional work.
You can see that I too am aspiring to be a Rehab Rebel and have felt many of the negative effects of our industry as we all have.
My mission – Show Rehab Professionals that they are not alone, build a supportive Rehab Rebels community, and provide useful content to drive therapists to make a positive career and lifestyle change for themselves and loved ones.
You do not have to stay working for your current employer until retirement. There are others like you who have decided to make a change and you can too!
Join the Rehab Rebels Tribe!
Subscribe for FREE private facebook group, monthly progress updates with guest schedule, actionable content, and
a bonus of Top 25 Alternative Careers for Rehab Professionals.
Other interests:
Alternative ways of living from housing, food, community, etc.
Financial Independence and Financial Independence Retire Early.
Alternative income pursing other sources of income out side of the traditional income exchange model of money for your time.
Insightful Interviews with Rehab Rebels