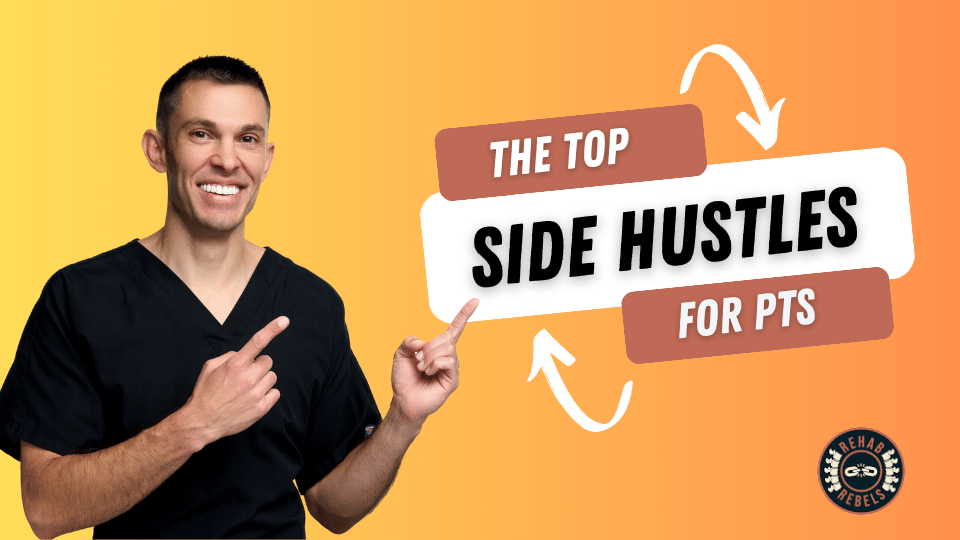 Looking for physical therapy side hustles? You may be looking for supplemental income, or a new skill that you can grow into a full-time gig. The path to success often takes unexpected turns. The journey towards skill enhancement, greater networking, and new opportunities frequently begins with a side hustle. Whether you are looking to grow a side hustle into extra income, or a whole new career, I'm happy to share some popular side hustles with you. The rehab rebels I've had the privilege to interview on my podcast amplify the truth that side hustles can serve as a launchpad for new careers outside of physical therapy.
Top Physical Therapy Side Hustles:
Home health visits
Physical Therapy Writer
Retail Arbitrage
Physical Therapy Educator
Real Estate Investment and Management
User Generated Content
Home Health Visits
Seeing extra physical therapy clients is one of the fastest and most reliable ways to make extra money as a PT. Maybe you thought about opening up a cash-based side hustle, but got overwhelmed by finding patients, accepting insurance, and the legality of treatment.
In my opinion, the best way to see patients on the side is through Luna Physical Therapy. Luna is an app that connects patients and physical therapists for home health visits. With Luna, you are an independent contractor and in control of your caseload. However, Luna handles the difficult parts of managing clients on the side.
Luna Physical Therapy makes seeing patients on the side easy. Because they:
Bill insurance companies
Pay you after each session
Connect you with patients in your area
Have an electronic medical record that is easy to use
Luna takes care of the work so you can focus on seeing your clients. You can read more about Luna Physical Therapy here and apply to be an independent contractor through them here.
Physical Therapy Writer
Writers are needed everywhere. Blog posts like this one, social media posts, and emails are all written by therapists who can connect the intricacies of the rehab skillset with the creative and technical skills of writing.
If you're interested in learning the skills to be a freelance physical therapist writer, or learning more about non-clinical PT work in general, I highly recommend Non-Clinical PT 101. This course, produced by The Non-Clinical PT, teaches marketable skills that you can use in your side hustles. Also, if you are ready to fully transition out of clinical care, this is the course you need.
Retail Arbitrage
Retail arbitrage in brief, is when you buy something and resell it at a higher price. You may need to "flip" the product to sell, or you could resell as is. For example, Craigslist often has free or cheap furniture for sale that needs some TLC or updating. If you have an eye for design and like DIY projects, you could buy furniture for cheap (or free) and flip the finds to sell at a significantly higher price.
Maybe you're a home health therapist who drives around a lot of different neighborhoods, you may drive by a bunch of thrift stores and yard sales that can be great for sourcing.
If you have a good eye for sourcing collectible vintage items or high-quality goods, you can make a business out of buying products at yard sales/Craigslist/Facebook Marketplace/Thrift Stores and reselling on eBay, Mercari, Poshmark, or local flea markets.
Physical Therapy Educator
Physical Therapists are natural born educators; inside and outside of the clinic. If you have specialty knowledge, share it with the world. Whether it's helpful to other PTs, patients, or the community in general.
You can earn money through your physical therapy knowledge.
Ways to monetize your physical therapy expertise:
Create a presentation that you can give at conferences or in-services. Find clinics, conferences, hospitals, etc who will pay for you to present on your topic. Make sure that you choose a topic that is valuable to the place you're presenting at.
Build a course that you can sell online. Creating evergreen course content online is a way to let your knowledge widely spread. If you don't know where to get started, Kajabi is an all in one website and course hosting platform that does most of the heavy lifting for you. One of my favorite online educators, Pat Flynn, has incredible courses to help you get started in the online education realm. Start From Scratch is a course I recommend if you want clarity on where to begin with your skillset.
Work as an ad-hoc professor at a physical therapy or physical therapy assistant school. If you have any schools in your area, reach out to the program director to see if they need educators. Teaching is not only a great way to make extra income, but it's a way to stay connected with the new research and trends in physical therapy which students are learning.
Real Estate Investment and Management
Investing in real estate is often viewed as the ultimate source of passive income. But how do you get started? Real estate investment is often seen as purchasing properties to rent out or flip and sell for a higher price. But what if you cannot afford to purchase a unit to flip or rent out? There are still ways you can maximize your own home to make side income.
Real estate side hustles that don't involve buying a new property:
Rent a spare room on Airbnb or on FurnishedFinder
Turn your garage or basement into an ADU (accessory dwelling unit) that you could rent out
Invest in a tiny home or RV that you could place on your property and rent.
Equip your yard or driveway to rent out as an RV or van camp site.
Add your yard to SniffSpot. This is a website that connects people with yards and dogs. You list your yard, and people with dogs pay you to come and use your yard for sniffs and play.
User Generated Content
If you have ever scrolled through social media, you've seen user generated content (UGC). UGC is photos or videos that users create and then sell to businesses for that business to use on their social media page. If you're creative, good at video, or a photographer, and don't have the patience or desire to have a social media following, you could make money by selling your content to brands.
Professional USG creators charge over $1000 for a single TikTok video or Reel that they create using a brand's product. If you're just starting out, you may need to create some content for free to start a portfolio. Then, you can start charging $50-$100 per post and increase your rates from there as you get more clients.
Whether you're seeking to add an extra stream of income or to redefine your career entirely, the rehab rebel journey through different physical therapy side hustles is filled with potential. Embrace the challenges, learn new skills, and let a side hustle guide you towards a future that's as dynamic as you are. Craft your story with purpose and passion.